542 Washington St. in Whitman, MA
781-447-2633
What do I do for fun? .... roll beads.
---
How many roses do I need?
Roses are naturally different sizes, different petal thicknesses, and different densities. So, with that, I'm referring to a large, dense, healthy rose, with no mold, in these estimations:
1 large rose will make 10 to 12 beads for a full beaded bracelet OR 1 decade (small rosary).
6 large roses of the SAME COLOR will make 1 set of rosary beads (59 beads).
The condition and age of the rose will determine the # of beads. It's best you bring more roses than we need.
Whether you need 1 bead or 10 beads from a rose, I need to work with the whole rose. I can not work with 1 or 2 petals.
---
Can I do more items later?
Maybe. Some clients think "I'll do these now and get more later". That may not work out for you. If you have just 1 rose, there won't be petals to work with later. In this case, it's a one time opportunity and I advise you to place a completed order.
If you have other roses and need me to make beads months or years after I make the original beads, I can certainly start over. These petals will have faded over time. There's nothing to do to avoid that. It's nature. Your best opportunity for color and volume is making beads sooner rather than later.
---
Can you use a pressed rose?
No, not if it was a whole rose pressed in a book. If the petals were plucked individually then pressed as single petals, they should be fine to use. But I need the equivalent of a whole rose to work with them.
---
Will you work with other flowers?
No, I'm sorry, just roses. The texture of the rose makes a very nice, smooth bead. Other flowers are too rough for my method of making rosebeads.
---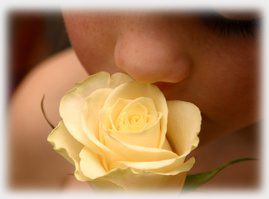 What color will my beads be?
The color comes from the concentrated pigment in your rose when it is dry. Fresh roses often dry darker, therefore your beads are the rose when it's dry. Pink roses can sometimes dry with a slight purple hue. Vibrant red roses dry to a dark cranberry color due to the extremely high concentration of red pigment in the rose. Red roses will dry the darkest of all the colored roses. It is also the one rose which will hold its color over time. I made beads from a 50 year old rose which was red. They came out very nice due to the red pigment and the condition of the rose over so many years. White roses are never paper white and sometimes have a slight yellow hue to them. Too much moisture in the rose, and time, will fade or draw out the color. Even in this case, the bead can still be made. You have to like the petals in the color they are when you bring them in. Sometimes it's more about the sentiment behind the rose, not the color, that's important.
---
Do you guarantee your work?
Yes, I stand by my work. The beads are hearty and will withstand reasonable wear. Care instruction cards are given with each piece at the time of pick up. Metal parts, on occasion, have broken. I make my very best effort to only offer quality metals. If your metal parts need to be replaced, please contact me.
---
How/when do I pay for my order?
Since all work is custom and handmade with your roses, full payment is appreciated by check or cash at the time the order is placed.
However, a payment plan is available for your convenience. 50% deposit will start the bead rolling process. Roses will not be rolled without a deposit. Final payment is due within 1 month of the deposit date. Rosebeads will not be assembled with metal parts until final payment is received.
I do not take credit cards... due to the high rates and fees for processing.
---
When will my order be finished?
The process is involved and all handmade. Usually I estimate between 3 1/2 to 4 months, depending upon the size of the order. Summer humidity can slow down the process. Roses brought in after AUGUST 15th though, can not promised for Christmas.
---
Will my order be ready for Christmas?
ROSES BROUGHT IN AFTER AUGUST 15th CAN NOT BE PROMISED FOR CHRISTMAS.
---
What items do you make?
Preserve a loved one's roses in many beaded keepsake designs. My gallery has all the items to see in person. My signature piece "angel pendant", drop pendants, necklaces, bracelets, earrings, tie tacks or lapel pins for men, Angel pins, ornaments, bookmarks, Saint's chaplets, rosary chaplet, and rosary beads. They make great gifts as a Memorial piece or from a happy occasion. A special gift to brides and bridesmaids using wedding day roses. A Graduation gift from prom roses. A gift for new Moms, anniversaries, Baptisms, First Communions. . . any special occasion. I'm always coming up with new items as I'm inspired.
---
Where are pictures of your work?
I'm sorry, you won't find pictures of my work on this web site.
I take great personal pride in your roses. For me, taking orders online is just too cold and impersonal. Your roses are far too precious to be treated like "mail order" items. I like to conduct business in person and this works for me.
---
Are the prayer beads blessed?
No. It's against Catholic "policy" to sell blessed items. It's more special for you, or the person receiving them, to have them blessed. I also practice "liturgical correctness" when making prayer beads. It's very important that the sequence and position of the beads is proper.
---
How do you make the beads?
My process for making rosebeads is unique to me and my trade secret. It is my handmade process which I labored over to achieve, with Grace from God, in 2004. Read about my story. It is unlike any other process or another bead maker's work. They are NOT made of clay or a clay additive, nor are there fillers used. Your Rosebeads are made from your roses.
---
How can someone do this work too?
Often I'm asked if I am selling this as a "franchise". Or can someone watch me, or learn from me. No, sorry. I don't share how I make the beads.
My inspiration in this mission came from losing very special people, a gift of healing, and Grace from God. I have created my own pieces with my own creativity with my own process. I do so with passion and sensitivity.
If I have inspired you to create beads from roses, it's a wonderful, spiritual and emotional journey. I ask that you do so with the highest regard and respect to this ancient art. It is NOT for someone who wants to mass produce beads. This work takes time, devotion and passion. It can not be rushed nor can there be shortcuts taken. Each rose IS a representation of an individual and special moment in time. That fact CAN NOT be taken lightly.
The Angel Rosebead pendant is unique to my mission. It is legally protected. To the few people who have copied my work: please find your own path so your journey is unique to you... and NOT a COPY of my work.
---
For further information, please call 781-447-2633.

2004-2019 All content, logo and angel pendant is a LEGAL REGISTERED TRADEMARK
and LEGAL COPYRIGHT of Dianne Johnson, Angel Rosebeads, Inc.