Floating Flowers
This product line uses flowers that are NOT roses. If you have ROSES, please look at Angel Rosebeads Products
Introduced in 2018, using flowers other than roses, petals are arranged in a mosaic pattern set in a flat resin setting. Interesting areas of the flower can also be placed whole into the setting. You may have one or several colors in one piece. Your flowers will give you more color and design choices than you probably realize. For this reason, we need to talk about all your options and expectations.
If you can come inside the gallery for ordering, that is preferred. Please call to make an appointment Tues-Fri 1-5 at 781-447-2633.
However, if you want to drop off or mail them, we can discuss your options on the phone. Please include this Floating Flowers order form.
Drying Flowers: The goal is to get rid of the moisture. For these items I only need a few petals. Pluck the petals, allow them to air dry and see what Nature gives you. Consider the greenery too. Green rose leaves dry great and Bells of Ireland is a beautiful lighter green. See drying options on page 3 of the Floating Flowers order form.
2022 Brochure: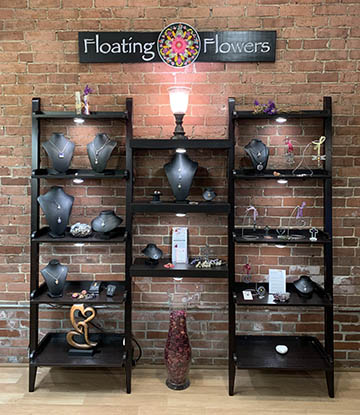 For further information, and help with your order please call 781-447-2633.