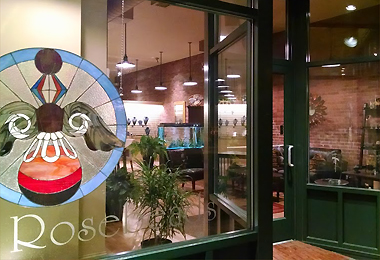 Come on in! Sit and relax with coffee, tea or hot chocolate. Make yourself at home.
I'm happy to share this beautiful and comforting gallery with you where you will receive personal, one-on-one care. We can take the time you need to touch and see the items I make.
Please come in during these hours:
Tues - Fri: 1pm - 5pm
Sat - 10am - 2pm by appointment please
Picking up beads does not require an appointment.
Sun & Mon: closed
These are scheduled closings during the year:
July 4th week (1st - 9th)
Saturday of Labor Day weekend
Saturday of Columbus Day weekend
October 21-29
Thanksgiving day through the weekend
Christmas Eve through New Year's weekend
2019 April 16-25 School vacation week
Saturday May 27th of Memorial Day weekend
542 Washington St.
Whitman, MA 02382
781-447-2633


As you enter the front door, this seating area greets you.


A view into the first table/meeting area.


First table to meet clients showing a full display of pieces.


Another table to meet clients, also showing a full display of pieces. This table is a little more private.


Our fish - of course we have Angel fish!

I'm often asked why I don't have pictures of my work on this web site.

I take great personal pride in your roses. For me, taking orders online is just too cold and impersonal. Your roses are far too precious to be treated like "mail order" items. I like to conduct business in person and this works for me.

I'm sorry, you won't find pictures of my work on this web site.
For further information, please call 781-447-2633.

2004-2018 All content, logo and angel pendant is a LEGAL REGISTERED TRADEMARK
and LEGAL COPYRIGHT of Dianne Johnson, Angel Rosebeads.